There is a growing need for the safe management of Covid-19-contaminated waste as well as used PPE, along with deep cleaning services to keep work environments safe.

Waste from environments where there is known Covid-19 contamination, such as hospitals and quarantine centres, fall under the classification of Health Care Risk Waste (HCRW) and must be sterilised or incinerated.

EnviroServ operates a licensed and fully compliant healthcare waste incinerator in Roodepoort and has the know-how and trained personnel to manage such waste safely, via a process that guarantees total destruction of the virus.

We provide a certificate of destruction proving that the material has been incinerated, giving complete peace of mind that you have met your obligation to eliminate the risk of transmission of the virus.

With the wearing of face masks and use of other PPE now required in the workplace, companies may wish to ensure safe management of this material from time to time from a prudent risk perspective and guaranteeing that there is no possibility of spreading infection. It has been suggested by the International Solid Waste Association that such waste, from non-infected persons, be referred to as "social distancing waste".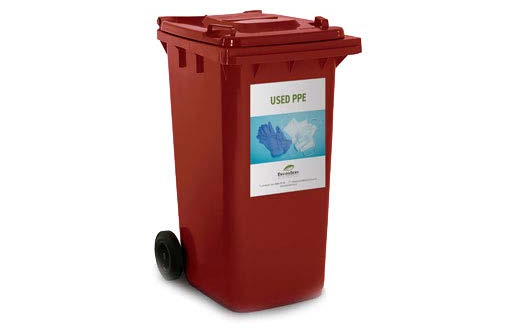 EnviroServ will work with clients to establish protocols for the safe management of Covid-19 related waste, be it material classified as HCRW due to the potential presence of the Covid- 19 pathogen, or materials now more correctly described as "social distancing waste". For HCRW, incineration or other forms of sterilisation are the only solution, however, for "social distancing waste", this material is suitable for disposal at one of our Class A waste management facilities, where we have the right protocols in place to dispose of it safely. These protocols ensure the disposal of such non-hazardous "social distancing waste" into the overall waste body, where it is trenched and buried under the supervision of competent personnel so that it can never be recovered.

Where Covid-19 infection is either suspected or known at the work place, EnviroServ offers full sanitation services which follow World Health Organization and the US Centres for Disease Control COVID-19 protocols for work methods and materials used for deep cleaning.

We have personnel trained to work in hazardous environments who have undergone specific training for dealing with COVID-19 to provide sanitation and cleaning services to companies either returning to operation after the lockdown, or following confirmation of a COVID-19 positive case on site.

EnviroServ is able to adapt its processes where clients have their own protocols on the storage, collection and removal of Covid-19-related waste, and guide those who have not developed these.

Should you require more information, please contact customer services on 0800 192 783 or contact your waste consultant if you have an existing relationship with us.